Isolated Patients Comforted With 'Fake Hand' so They Don't Feel Alone
|
State of So Paulo: SO CARLOS Two surgical gloves are wrapped over the hands of an intubated patient in a photo posted by a nurse technician in Brazil. The gloves are filled with water and are knotted at the fingers.
In So Carlos, Brazil, where the very contagious P.1 variety of COVID-19 is sweeping the nation, Semei Araujo Cunha works at an emergency care facility.
The UPA So Carlos team initially employed the water-filled gloves to warm the extremities of the patients, but they soon realized it also had a soothing effect, much like holding hands.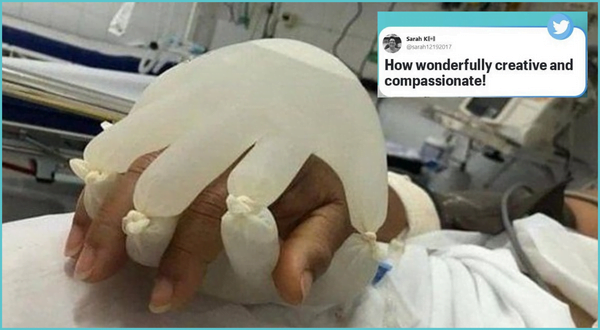 Cunha stated that the situation in So Carlos is more dire now than it was at the start of the epidemic and that her emergency care unit has been converted into an ICU to assist care for COVID-19 patients.
With hospitals straining to handle an influx of patients, deaths on track to reach record levels, and few indications of relief from a botched vaccine program in Latin America's largest country, April is shaping up to be the pandemic's deadliest month for Brazil so far.
Johns Hopkins University data up to April 8 show that Brazil's seven-day rolling average has grown to 2,820 fatalities per day, compared to the global average of 10,608 per day.
The Institute for Health Metrics and Evaluation at the University of Washington predicts that the death toll will continue to rise over the following two weeks, reaching an average of approximately 3,500 per day, before declining.
The image of Cunha has gained a lot of attention online, and one Twitter user called the gloves "The hand of God."
This made my day! https://t.co/9JuMhAiJFX

— NHM (@dejanpiki1982) August 29, 2022