"Unforgettable Talent Show: 10-Year-Old Boys' Hilarious Baby Performance Steals the Show"
|
Do you recall the days of attending school? If you're around my age, the passage of time might have made those memories a bit fuzzy.
However, I have vivid recollections.
I can easily reminisce about sitting in classrooms, enduring lunch breaks, and engaging in physical education. But what stands out most in my memory are the special occasions, particularly talent shows.
Oh, the sheer delight of those events! I longed to participate, but my shyness held me back.
The notion of standing on a stage before the entire school was undeniably daunting. Yet, I found myself thoroughly impressed by the brave participants—especially the younger ones in the lower grades.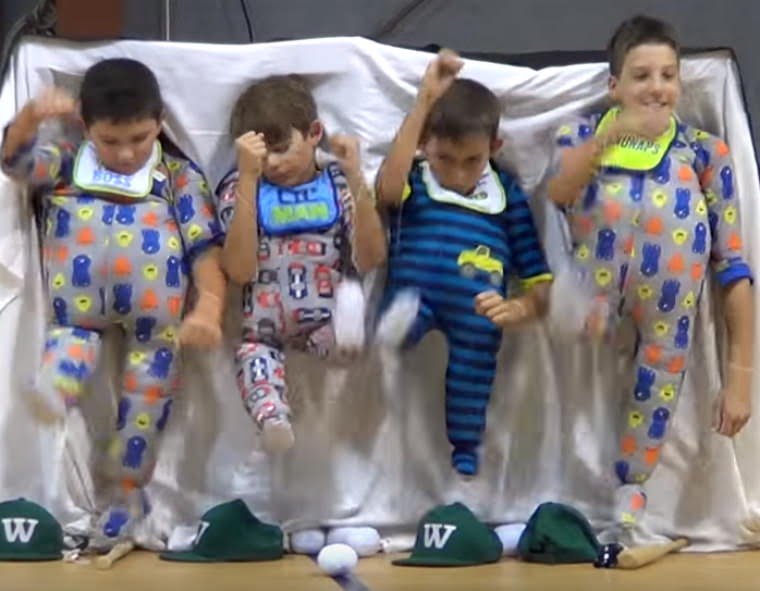 They had some serious guts!
If my memory serves me well, those talent shows typically featured students showcasing their abilities in singing, playing musical instruments, or dancing. It was pretty much confined to those categories.
Beyond merely demonstrating their skills, these shows offered an ideal platform for impressing classmates and gaining attention.
I'm reminded of an incident involving four ten-year-old boys from the New Braunfels Christian Academy. They achieved this feat during the school's annual talent show, as per a report by Jesus Daily.
These boys had invested considerable time and effort into their act, eagerly anticipating the reactions of their fellow students.
As their performance commenced, a large black sheet concealed the stage. Yet, as the sheet was dramatically pulled away, uproarious laughter echoed through the audience.
Rather than opting for a conventional display like singing or playing instruments, these young boys devised a truly remarkable and side-splitting routine. They appeared as oversized babies, dressed in adorable onesies and bibs, almost resembling puppets.
The moment the music kicked in, it was pure magic. The precision of their choreography and the clever use of props were both impeccable. This performance was truly unforgettable!
Scroll down to witness their brilliance for yourself. It becomes abundantly clear. Personally, my favorite segment begins at the 1:50-minute mark in the video.
Don't be selfish — make sure to share this clip with your friends on Facebook if you also thought the performance was incredible!