Celine Dion's health condition is still worsening, leading her to make a heart-wrenching decision: "I deeply apologize for disappointing all of you."
|
Céline Dion, a renowned celebrity battling health issues, has made the difficult decision to postpone her entire planned world tour.
In a heartfelt message on Twitter, she expressed her deep apologies for disappointing her fans once again. Last year, the iconic singer revealed her diagnosis of a rare neurological condition called stiff-person syndrome, a degenerative disorder affecting the brain and spinal cord, causing painful spasms and restricted mobility. Despite the incurable nature of the disease, she remains optimistic as symptoms can be managed.
Her struggles with muscle spasms led her to postpone her North American tour dates in January. Unfortunately, due to ongoing health problems, Céline Dion has now canceled her upcoming 42-date tour.
In her social media announcement, she expressed her sadness over the decision but stated that it's best to cancel everything until she's truly ready to be back on stage. She reassured her fans that she is not giving up and is looking forward to seeing them again.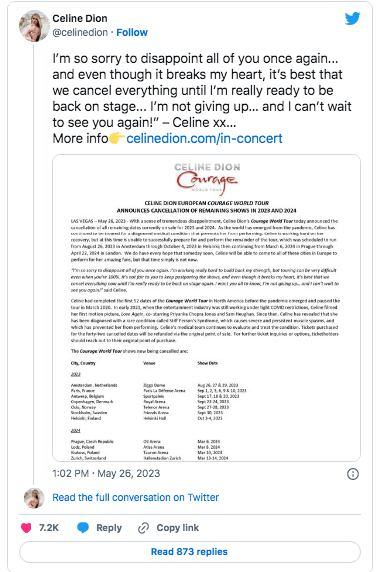 While maintaining a low profile, Céline's sister Claudette has provided updates on her health and expressed hope for her return to the stage. Despite the challenges, Céline released a new song titled "Love Again" and contributed six of her classic songs to the soundtrack of a movie with the same name.
With more than 200 million records sold worldwide, Céline Dion has achieved immense success in her music career with unforgettable hits like "The Power of Love," "Because You Loved Me," and "My Heart Will Go On."
We send our best wishes to Céline Dion and appreciate her continued dedication to her art, even during challenging times when live concerts are not possible.