A Night of Miracles: Stray Dog's Quick Action Saves Newborn's Life
|
The Robinson family made a significant move, purchasing a house in a remote area with the intention of building a farm. Amid this transition, Mrs. Robinson, who was pregnant, was preparing to welcome her second child, a boy, within four months. Eager to ensure everything was ready, they swiftly organized the child's room upon settling into their new home.
Prior to this, their living situation had prevented them from owning a dog due to apartment regulations, but now residing in their own space, the Robinsons were enthusiastic about introducing a puppy into their lives, as they were passionate animal lovers. The family, including their six-year-old son, Matias, ventured to an animal shelter to choose a dog. They sought a puppy that would grow up amiably with their children on the farm.
Their shelter visit led them through paddocks while hearing poignant stories about numerous dogs. Deciding on the right dog was proving challenging. As their visit concluded, they encountered a pit bull named Benson, a four-year-old who displayed timidity with his tail tucked and head bowed – an embodiment of lost trust in people.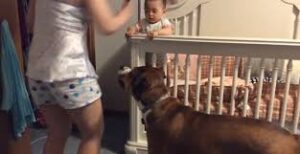 Inquiring about Benson's history, the volunteers shared a sorrowful tale. Benson had endured a distressing life, once forced into dog fights and subsequently abandoned on the streets. Rescued by volunteers, he briefly found a home only to return to the shelter due to reported aggression and behavioral issues.
Although volunteers cautioned against placing Benson in a family with children, Mr. Robinson remained steadfast in providing Benson a chance. Thus, they adopted him. Overcoming initial challenges, including Benson's unfamiliarity with walking on a leash, they brought him home.
Initially reticent and reserved, Benson gradually acclimated to his new environment, forging a particularly strong bond with young Matias. Following Mrs. Robinson's childbirth, the family introduced the baby to Benson. The dog responded by gently sniffing and lightly licking the baby's face. This interaction affirmed their belief that Benson was a wonderful addition to the family.
One pivotal night, when the baby was only two months old, Benson's persistent barking roused the Robinsons from their sleep. He fervently attempted to approach the baby's crib, attempting to bypass the protective bars. He even resorted to biting the crib in his determination. Initially alarmed, the family eventually realized that Benson's actions were not hostile but driven by concern.
Their immediate response unveiled a dire situation: the baby had stopped breathing. They rushed the infant to a nearby hospital, where doctors managed to revive him. Medical professionals confirmed that the baby would not have survived if cardiorespiratory arrest had persisted for over half an hour.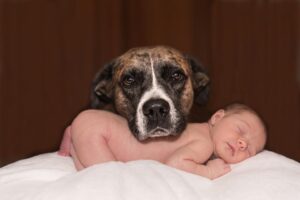 Benson, once an overlooked and misunderstood dog, emerged as an unexpected hero. The Robinsons' act of adopting him, despite the doubts of others, had set off a chain of events that culminated in Benson saving their baby's life. This profound connection between the family and their rescued pet showcased that destiny has its own intricate plan.