THE BEST NATURAL SALAD: PREPARE IT ON SUNDAY AND YOU'LL HAVE FRESH SALAD EVERY DAY OF THE WEEK!
|
Most people just don't have the time for a home-cooked meal, which is why our diet is based on processed and fast food. We rarely eat fruit and vegetables anymore, although the WHO (World Health Organization) recommends at least 400 gr. of fruit and veggies on a daily basis. The end result of our unhealthy diet are various diseases and conditions which can put our life at risk.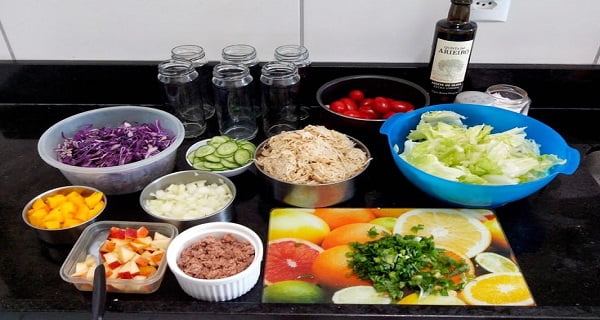 To start living healthier, we can start with a nice salad that is easy to prepare and will last for up to a week. The salad we have for you today is practical and nutritious, and can be easily prepared.
You just need to choose some vegetables, wash them well and put them in a mixture of a liter of water and a tablespoon of baking soda.
Let the vegetables soak in it for 15 minutes, then rinse with water and dry them with a paper towel.
Some of the vegetables should be cooked in water first.
Broccoli, cabbage and cauliflower taste better when cooked in boiling water for up to 5 minutes – once they're done, put them in a bowl of icy water to keep them alive.
If you pick carrots, you can shred them without peeling them only if they are organic.
Cucumbers or cherry tomatoes are great additions to any salad and will add nice colors and flavor. When storing the salad, you should keep it in a glass jar with a wide mouth. Make sure the sauce (apple cider vinegar or vinaigrette made from lemon, onion, salt and olive oil) comes first. Next, add the carrots and cucumber, then a layer of broccoli, cauliflower, cherry tomatoes, etc. That's it! Now close the jar and put it in the fridge, and your salad will last for up to a week. Eat a bit every day in order to add essential nutrients in your diet and start living healthier.